Weather forecast Hurghada
The maximum temperature for Hurghada in the coming week is 36℃, at Friday 6 October. The lowest temperature is 24℃, at Thursday 5 October. Our Hurghada weather forecast shows none precipitation the next 7 days at. The windiest day will be Friday 6 October and can reach wind speeds of up to 39 km⁄h.
Weather forecast 14 days Hurghada
Do you want to know what is the weather forecast for Hurghada for the next 14 days? See what the weather will be like in Hurghada for the next 2 weeks.
Thursday 5 October

Max: 34℃
Min: 24℃
Precipitation: 0mm
Wind speed: 27km⁄h
Friday 6 October

Max: 36℃
Min: 25℃
Precipitation: 0mm
Wind speed: 39km⁄h
Saturday 7 October

Max: 32℃
Min: 24℃
Precipitation: 0mm
Wind speed: 35km⁄h
Sunday 8 October

Max: 32℃
Min: 24℃
Precipitation: 0mm
Wind speed: 31km⁄h
Monday 9 October

Max: 34℃
Min: 24℃
Precipitation: 0mm
Wind speed: 31km⁄h
Tuesday 10 October

Max: 34℃
Min: 24℃
Precipitation: 0mm
Wind speed: 35km⁄h
Wednesday 11 October

Max: 33℃
Min: 22℃
Precipitation: 0mm
Wind speed: 35km⁄h
Thursday 12 October

Max: 33℃
Min: 22℃
Precipitation: 0mm
Wind speed: 36km⁄h
Friday 13 October

Max: 32℃
Min: 22℃
Precipitation: 0mm
Wind speed: 39km⁄h
Saturday 14 October

Max: 30℃
Min: 21℃
Precipitation: 0mm
Wind speed: 37km⁄h
Sunday 15 October

Max: 29℃
Min: 20℃
Precipitation: 0mm
Wind speed: 22km⁄h
Monday 16 October

Max: 30℃
Min: 22℃
Precipitation: 0mm
Wind speed: 25km⁄h
Hurghada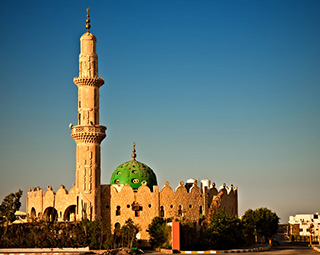 Source: licensed by Royal Holidays
Hurghada is a somewhat chaotic seaside resort with many resorts, little culture, but good diving and many stores and restaurants. More about Hurghada
Hurghada and surrounding areas are ideal for snorkeling and diving, while Hurghada also has all sorts of things to visit, Safaga is very less touristy but truly Egyptian, and you can find quiet places here as well as the busy nightlife. More about Hurghada
Average temperature in Hurghada (in ℃)
| Jan | Feb | Mar | Apr | May | Jun | Jul | Aug | Sep | Oct | Nov | Dec |
| --- | --- | --- | --- | --- | --- | --- | --- | --- | --- | --- | --- |
| 20 | 22 | 24 | 27 | 31 | 33 | 34 | 34 | 33 | 29 | 25 | 21 |
| 14 | 15 | 17 | 20 | 24 | 26 | 28 | 28 | 26 | 23 | 20 | 16 |
| | | | | | | | | | | | |
Average rainfall in Hurghada (in millimeters)
| Jan | Feb | Mar | Apr | May | Jun | Jul | Aug | Sep | Oct | Nov | Dec |
| --- | --- | --- | --- | --- | --- | --- | --- | --- | --- | --- | --- |
| 2 | 1 | 2 | 0 | 0 | 0 | 0 | 0 | 0 | 2 | 0 | 2 |
| | | | | | | | | | | | |
Average number of wet days in Hurghada
| Jan | Feb | Mar | Apr | May | Jun | Jul | Aug | Sep | Oct | Nov | Dec |
| --- | --- | --- | --- | --- | --- | --- | --- | --- | --- | --- | --- |
| 0 | 0 | 0 | 0 | 0 | 0 | 0 | 0 | 0 | 0 | 0 | 0 |
| | | | | | | | | | | | |